Winnie Gong
Product Designer
Personalization for a one of a kind card
Creating magical moments in just a few clicks at Lovepop Cards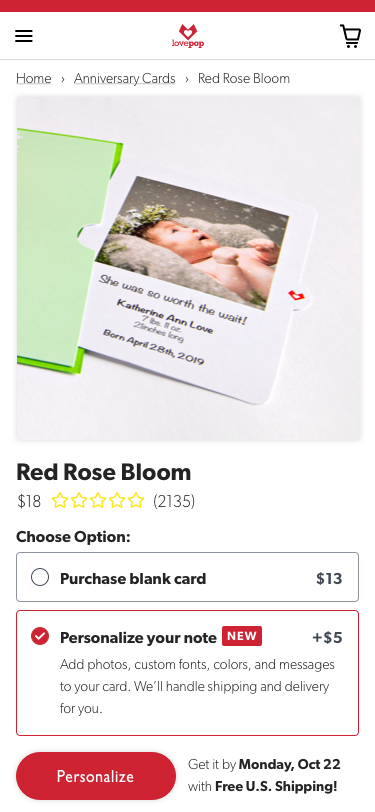 Lovepop is on a mission to create one billion magical moments, each one representing a connection between two people. Personalization is one of the unique ways we have to create these moments.
I inherited the "Send a Surprise" (SAS) feature about a year into my time at Lovepop. SAS allows customers to add and send a personalized note with a Lovepop card.
Our team's primary goal was to increase Average Order Value (AOV) by providing additional SAS features. However, during our usability testing stage, we soon learned that there were other aspects of the feature that we could optimize to significantly impact AOV with minimal engineering effort.

My project responsibilities included:
Test scripts and documentation

User research

Usability testing

Mid-fidelity rapid prototyping

Developer-ready assets and high fidelity prototypes
I worked closely with our in-house researcher UX Researcher, Courtney, throughout the process. Shoutout to her for running a huge chunk of the research!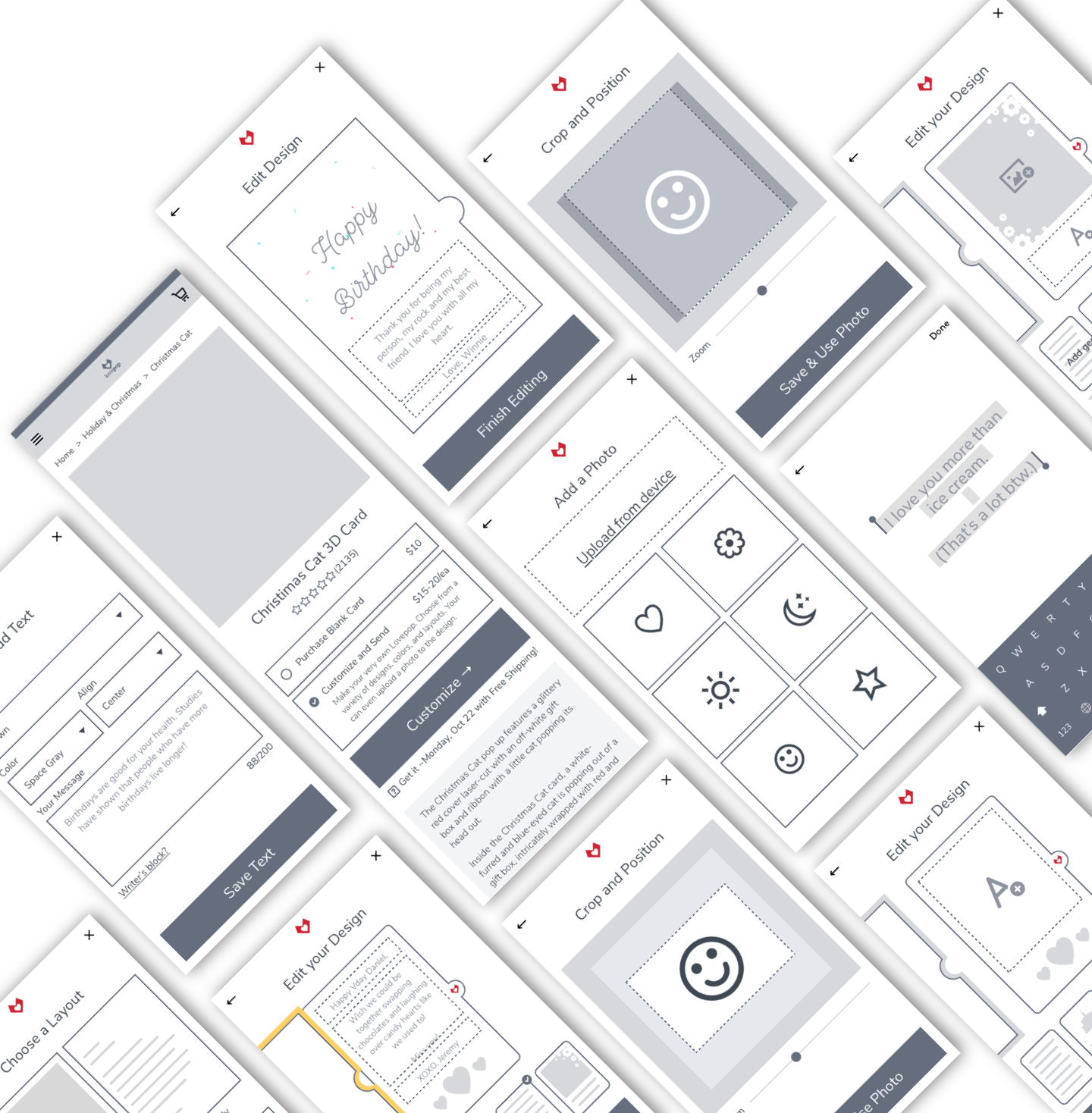 "If you could personalize this inserted note in our Lovepop Card on our website, what features would you expect to see?"

Our research lead ran user surveys, focus groups, and competitive analyses to determine which features users would expect from a Lovepop note editor. The most requested features were as follows:
Templates to choose from

Text editing controls

A way to upload a photo from your device

The ability to schedule and send the note
I built a mid-fidelity prototype that included these features, and our team conducted usability testing with a variety of different demographics. Because the vast majority of our visitors are mobile users, it made sense to design for mobile first. All of our users in our most recent round of usability testing gave the flow a 10/10 for ease of use.
Although our primary goal was to increase AOV by adding new SAS features, two key customer insights stood out to our team.
Customer Insight #1: "If you guys would just flip the order of schedule and personalizing, then this would be perfect."
Our stakeholders were primarily focused on increasing AOV; therefore, much of the design's focus was on adding these new features to increase usage. However, there was a consistent theme throughout the usability study: users did not understand why they needed to schedule a card before they personalized it.
Courtney and I ran a new user research session where the user tells us what they would expect the order of the features would be. The majority of the users ordered the steps as follows:
Visit lovepopcards.com

Search or browse for a specific card to purchase

Personalize the card

Address the card

Schedule card delivery

Enter Check-out

Provide customer information

Pay for card
Customer Insight #2: "Oh, I didn't even know you guys offered personalization. I'd totally use it if it existed."
A wonderful thing about working for a B2C company is the wealth of users you can source for user research. Lovepop was a beloved product and even had its own local fanbase who were always happy to provide feedback.
We identified a critical insight during usability testing: users did not know that we even offered personalization, sending, and scheduling delivery of a Lovepop card, despite the option being available for every product we had on our site. This was likely because the Personalization CTA, "Send a Surprise," was a vague call to action, and the button was placed away from the fold for mobile users.
Our PMs pulled data from Hotjar and Heap and discovered that the drop-off rate soared at the beginning of the user flow. Knowing this, I quickly redesigned the product pages to provide Personalization the same visual weight as adding the card to the cart directly.
The second round of testing was conducted with a new set of designs
The two customer insights helped us identify opportunities to impact the usage of Personalization with a minimal amount of development work. A new set of designs were created to test two hypotheses:
Can we redesign the Product Description Page (PDP) in a way that showcases and increases the rate of Personalization? See candidates for PDP redesign →

Will placing Personalization before scheduling reduce the amount of friction from PDP to checkout? See Test prototypes for user flow →
We were able to validate our hypotheses through this round of testing and prepared to move forward with the final design.
Rapid prototyping and testing allowed the UX researcher and I to validate designs and address user feedback quickly.
Our initial tests focused on the viability of the new features we add to SAS, but we ultimately learned that the discoverability and overall structure of the feature were worth addressing as well.
So, what happened next?
I left Lovepop Cards just a month after we completed these user research and testing sessions. In total, we conducted 3 rounds of research sessions to address the following:
The visibly of personalization on the product pages

Usability of the personalization tools

The sequence of the user flow
Before my departure, I left the development and product team a "north star" prototype and design assets for the Product and UX teams to prioritize and build. This version includes some features that we did not test earlier, as a last-minute request from the product team before I left.
View high fidelity North Star prototypes →
Almost two years later, note personalization is still on the Lovepop Cards web store and is offered on every single Lovepop card with an insertable note card.
Redesigning and resequencing the user flow of Personalization resulted in the following:
14%
Increase in feature usage
21%
Reduction of user drop-off